Consulting with us using eConsult
We are now operating a Total Triage Appointment System for appointments with a Doctor, Minor illness Nurse or our Advanced Paramedic.
This means all requests will be triaged by a doctor, nurse or paramedic to ensure care is provided in the most appropriate and safe way.
Online Consulting using eConsult can be a very good way of doing this any time of the day. Please complete an eConsult and we will get back promptly
If this is not possible please ring the surgery and they will take more information from you to pass to the appropriate clinician
We aim to process all requests on the same working day Monday-Friday. We may defer a response if it is not urgent and better dealth with by a specific health care professional. We will however always let you know our plan within 2 working days
For more information about how GPs are trying to ensure you have access to care please see this NHS video, thank you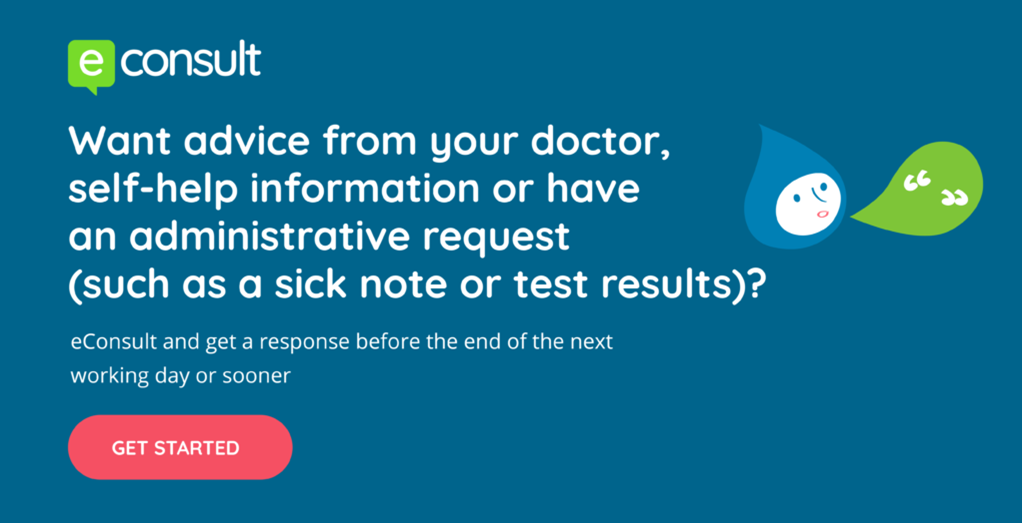 Here are some eConsult quick links
What is eConsult?
Watch the video link opposite to see what eConsult is about and how to do it.
Online consultations are as easy as 1, 2, 3 …
Online consultations are a quick and simple alternative to visiting your GP practice. Here's how to you can consult with your GP online, in three easy steps.
Click the above link for eConsult or download the NHS app
Fill out the form - it is simple and only takes a few minutes.
You can use it to:
Ask about an existing condition or new symptoms (it's important to include as much information about your symptoms as possible as this helps the clinician decide the next step)
Get information about your condition and how to treat yourself
Discuss a test result and request sick notes.
Get a quick response
Once you've submitted the form, we will normally let you know the next step by the end of the next working day. This might be advice on what to do next or we may decide you need a face-to-face appointment.
If you want to consult online but don't have access to a device or the internet, a staff member will happy to help you fill it out on your behalf over the phone.